
Prescribe
At a time when virtually no special printer drivers were available on PCs either, Kyocera tried to give its customers full control over their printers by providing all control sequences in the form of short English commands. The resulting page description language was given the name Prescribe.
This made it possible to generate even the most complex output by outputting simple character strings. In addition to scalable fonts, line graphics for forms and barcodes were also made easy to use. Consequently, there are a number of application programs that output Prescribe commands and are therefore dependent on the use of printers that support Prescribe.
By using the Prescribe converter, any PCL laser or inkjet printer will be able to print Prescribe output. Thanks to convert4print, users can choose the printer that best meets their needs and budget from a wide range of printers.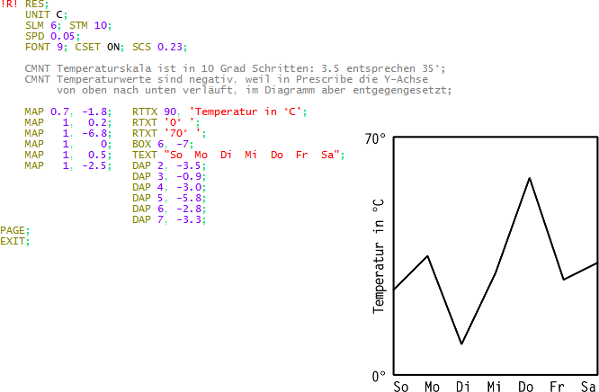 The features of the real printer used can be adapted to the usual conditions of the Prescribe printers used so far (e.g. sequences of input and output trays) via an adjustments area. Paper post-processing options such as stapling, punching or folding units can also be used as usual.
Part of the converter is also the emulation of a flash memory or a printer hard disk. Macros and fonts can be stored there without the application programs having to load these macros or fonts. If the converter recognizes commands that reference these macros or fonts, they are loaded into the printer automatically.
The converter also has a programmable filter that allows changes to be made to the received data stream. Using this filter function, control sequences can be changed printer-specifically, allowing even the oldest, possibly incomplete or even incorrect command sequences to be converted.
The Prescribe converter is also available as a gateway. This makes it easy to archive Prescribe documents, send them by e-mail or store them on servers for web applications.
A Prescribe gateway can also be a central component of a home-office infrastructure because it allows print output to be transferred to the home office if no Kyocera printer is available there.
Detailed information about the Prescribe converter can be found in the convert4print-Wiki.
The Prescribe converter can be tested online for free. Just visit the convert4print-Studio.
Imprint
© 2005 - 2023 SPE Systemhaus GmbH.
All rights reserved.